Trash Removal Carlisle MA
This year we are excited to offer Trash Removal Carlisle MA services!  With the purchase of a new (really cool) dump truck, we can pick up your trash, recycling, and more and take it to Carlisle Transfer Station for you.  Because let's face it: it's really the last thing you want to have to do!
ONLY $15/WEEK! DISCOUNTS AVAILABLE FOR VETERANS, SENIORS, & SINGLE PARENTS!!!
Trash Removal C
arlisle MA
No more loading your vehicle up each week with your trash and recyclables. And, no more waiting in line at the Carlisle Transfer Station. Spend your free time doing what you love.
Our Trash Removal customers receive full trash and recycling pick up from their residence once a week.  No need to drag the barrels to the curb – leave them outside the garage or at the top of the driveway and we'll come up and get them!
During normal weekly service we'll take anything that the Carlisle Transfer Station takes. (Click Here for the full list.)
For items not normally accepted, we can make outside arrangements.  For example, we're happy to take your plastic shopping bags off your hands!  Just let us know what your unique needs are.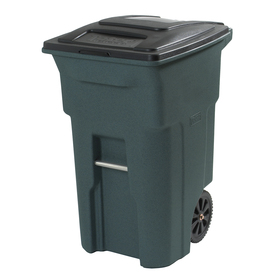 Here's how it works: We'll pick up your trash and pre-sorted recycling every Tuesday or Thursday, right from your driveway.
Each week, we charge $15 per garbage bin (a regular size outdoor bin that fits about 3-5 garbage bags, like the one pictured) with unlimited pre-sorted recycling, and $5 for each additional garbage bin.
(Our competitors charge PER BAG, not per bin!)
Here's what else we do for you:
Renew your transfer station yearly sticker
Leave a scratch ticket in your mailbox each week
Pick up Saturdays if you need us to
Ask us about our other removal services!
(Need a Saturday pickup?  No problem – just add $5/week for Saturday pickup.  Even if you don't need us EVERY Saturday! Just give us a couple days' notice…)
PLUS – if you're already a Lawn Services customer, we'll give you a 10% discount each month.